As you may know, 888 Holdings is one of the world's biggest names in online casinos with separate sites for everything from traditional casino games to sports betting and poker. The poker site has been in existence ever since 2002 but it was only in 2010 that it was re-branded as 888poker. Today it's one of the fastest growing online poker sites there is with over 10 million registered members worldwide.
Another key reason for the 888poker's ongoing success has been its continuous commitment to providing players with the latest tech and very best playing experiences. This has not only ensured its commercial success, it's also meant that it has won a number of awards including being the EGR Best Poker Operator three years in a row.
And now, when more people have started to access the internet through mobile devices than through desktop computers and laptops, it's only logical that the online poker giant has a leading edge app that lets you play whenever and wherever you want.
At a time when it's estimated that most people have between 60 and 90 apps installed on their phones and there are around 5 million available across Apple and Android platforms, it's hardly surprising that they've been very active in this area too. The result is an app that, while not offering quite as many options as their website play can, does have plenty to recommend it to anyone who wants to play poker on the go.
Getting started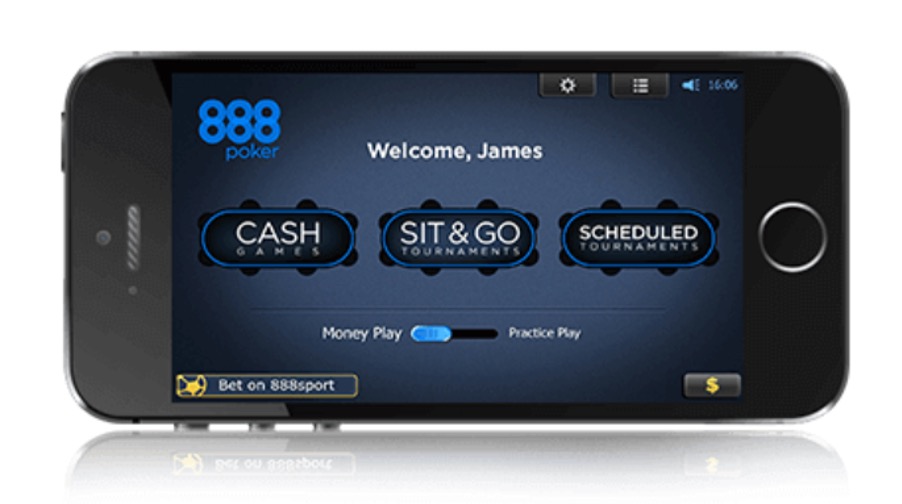 To start at the very beginning, downloading the app from your online store is simple and straightforward and once it's installed there is a quick registration and confirmation process which takes a few details and then texts you a code to confirm your registration. At this stage you'll also get the chance to find out about the welcome bonuses that are on offer and which take the form of real money and tournament tickets. It's certainly a great way to introduce you to 888poker.
Because everything, no matter how easy it is, takes a little time to get used to there's the opportunity to play for fun until you find your feet and are confident enough to play with real money so this is the perfect introduction to the various games on offer.
The games on offer
Go to 888poker and you'll have the option of joining Cash Games, Sit & Go Tournaments or Scheduled Tournaments. It's also worth mentioning that every single aspect of the app has been 100% optimised for mobile so everything from the display to the navigation is first rate and there are a number of ways you can personalise the experience even more.
Within the classic games you can choose to play Texas Hold'em, Omaha Hi/Lo and 7 Card Stud either in the cash game or the tournament format. Cash games are probably best if you just want to play for a short time as tournament play's likely to take more time as you work your way through a number of rounds to, hopefully, claim a prize.
Snap – for some real crackle and pop
It may be that you want a really fast poker experience in which case the app's Snap games could be perfect for you. You can play in either cash game or tournament formats and the way it works is simple. Each time you fold, rather than waiting for the whole round to end you're immediately dealt into another game where you can choose whether or not you're going to play.
By using the Snap-fold option you don't even have to wait until it's your call and the other players won't see that you've folded until it's your turn to act. If you do want to move on to another game but still observe the game that you've just left you can by taking the "fold, watch and play" option.
Give Blast a go!
Or, for an innovative take on the Sit & Go style of online poker, then Blast Texas Hold'em is an especially exciting way to play that could win you up to 10,000 times the amount of your buy-in. A draw will determine the size of the prize pool for the game and, as soon as the first cards are dealt, a countdown begins. When this ends it's all-in to win the prize pool. It's lightning fast and there's even a chance that it could win you a share of up to $30,000 in a single game.
If this sounds like your cup of tea then this, alone, would be a very good reason to download the app without delay – and get ready for a real blast.
The verdict
So that's a quick rundown of the main games you can enjoy with the 888poker app but what about all those other details like security and depositing and withdrawing money? Well you can rest assured that it's well up to the standards you'd expect from a highly respected name like 888poker.. It all adds up to a great poker app that could soon have you playing like a pro – and maybe even heading for next year's World Series of Poker. With its great range of games, slick graphics and smooth performance we'd certainly give the 888poker a solid five star rating.
Disclosure: As an Amazon Associate, I earn from qualifying purchases. The commission help keep the rest of my content free, so thank you!