It was over 100 years ago that Charles Fey came up with the invention that was to change the face of gambling forever. From his simple slot machine that had a jackpot of just 50 cents and which rang a bell when it paid out a multi-million dollar industry was born.
For many years after his invention was launched machines were simple mechanical devices – until they went "electric" with lights creating dazzling patterns plus the chance to hold and nudge reels, not to mention play for bigger jackpots
Then the online slots came along with multiple win lines and sophisticated and exciting sound and visual effects. It also meant that the way game design started to be approached changed completely with teams brought in to apply their various disciplines including design, storytelling, not to mention the essential technical skills too.
The result is that playing today's online games is an exciting and immersive experience that's as different as it possible to be from the old Liberty Bell machine.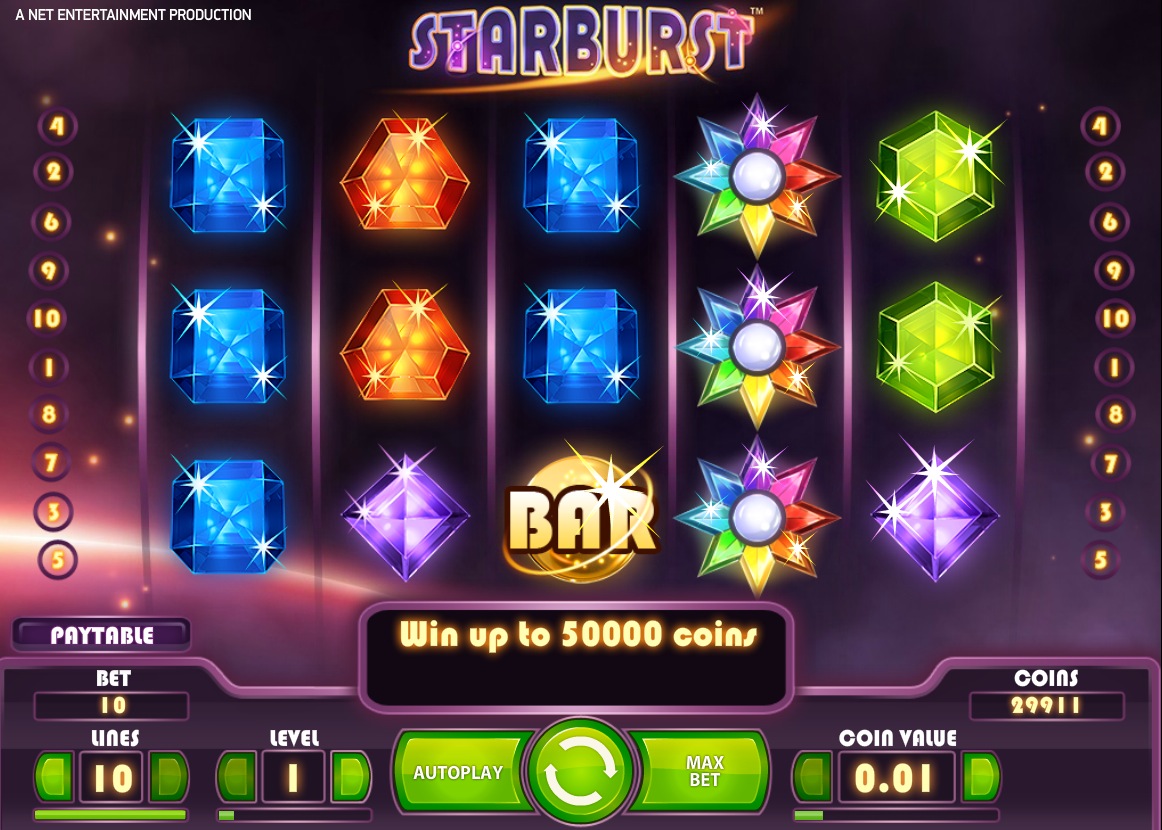 That's not to say that lots of today's games don't have a very appealing level of simplicity to them and one prime example would be the Starburst slots game found on 888casino – a perennial favorite with slots fans everywhere.
While it might not feature all the bells and whistles of some online slots – or even video inserts and other diversions – it's clear and attractive graphics can really make a refreshing change.
Its visual style is clearly influenced by video games like the Candy Crush Saga and as the reels spin, you'll see featured glistening gems as well as classic "7" and "Bar" symbols that have become so familiar to slots players through the years. The visuals are perfectly complemented with similarly magical sound effects that add to the simple pleasure of playing the game.
To describe the game's technical features there are a total of five reels and ten possible win lines. The bets you can place range from 10p to £100 per spin – so whether you're a cautious gamer or prefer the chance of the bigger stakes, bigger prize game you'll be well catered for with Starburst
Another great feature is that it offers the chance to win two ways – basically winning lines count left to right as well as right to left. So that's double the chance to win.
There's also a great bonus feature that's much simpler than some. "Wilds" turn up on reels 2,3, and 4 and these don't just stand in for other symbols, you also qualify for a free spin whenever you see one, up to a maximum of five times in a row.
Dedicated slots player know how critical the Return to Player (RTP) percentage is for pay-outs so you'll also be pleased to learn that Starburst's is a very generous 96.1% – again, better than a number of other slots we could mention.
It all adds up to a slots machine whose advantages belie its relatively simple appearance. So when you start to play we don't think it'll be very long till you discover its star qualities for yourself.
Disclosure: As an Amazon Associate, I earn from qualifying purchases. The commission help keep the rest of my content free, so thank you!