Online slot players are used to action. Fast-paced action. They lose concentration easily and want new and exciting things delivered, fast.
Slots developers realize this and work around the clock to produce new games with awesome themes. So far, 2019 has not disappointed with nearly 200 new titles released already!
Out of this avalanche of slots, which one should you spend your valuable time and money on? It is not an easy question to answer.
The good thing is that most online slots are available with a "fun play" option these days – you can try them for free, then find online casino sites offering the slot game for real money.
If you are wondering where to start, we have these five slots to suggest. They represent the crème de la crème of the online casino software industry in 2019. They are the finest, most innovative slots with eye-popping graphics, atmospheric sound effects, and incredibly fun gaming mechanics.
Also, they all have a healthy RTP which doesn't hurt either! So without further ado, let's take a look at the best video slots released in 2019:
Narcos Slot
Based on the famous Netflix series about real-life drug smuggling cartels, this online video slot is a sight to behold. If you have watched the first season on Netflix, you will instantly recognize the main characters who grace the screen of the slot.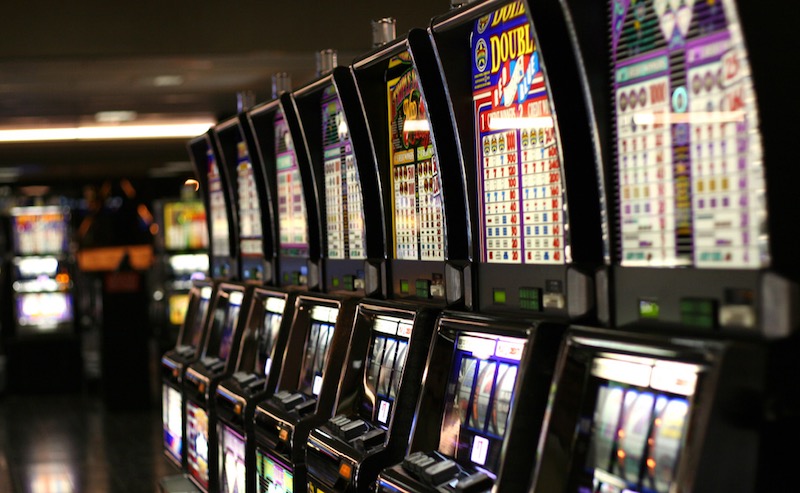 On the money, and if you lucky you won't be caught
The atmosphere is set by the background, which features a Colombian neighborhood from the 1970s and '80s, quite like the ones we get to see Escobar rule in the series. Regular fans of the series will notice one thing missing from the slot version – the bloody violence.
Though Netent has kept the gore quotient low, the slot still features a lot of guns and grenades among the cards. The high-value symbols in the slot are made up of the major cartel leaders and DEA agents who are hunting them down.
The kingpin also makes an appearance – Escobar himself, with that famous smirk from his mugshot. One of the biggest plus points in this slot is its background music – the track is melodious, whimsical, and at times full of suspense.
You will find plenty to enjoy from this 5-reel Netent slot with 243 pay-lines, even if you are not familiar with the show. It has advanced features like Random Wilds, Bonus Rounds with free spins, and big payouts. With a healthy RTP of 96.25, it is well worth your time.
Rich Wilde & The Tome of Madness
Rich Wilde is to online slots what Indiana Jones is to the movies, and Lara Croft and Nathan Drake are to video games – a fearless adventurer and explorer always on the hunt for ancient treasures and mysteries.
Software developer Play'N'Go hit on successful formula years back with the first Rich Wilde slot adventure story. And they have stuck to it over the years, constantly improving it with better graphics and sound, unique settings, and innovative bonus features.
The 2019 iteration is set in the rich world of Lovecraftian mythology. The Tome of Madness here refers to the horrific book mentioned often in stories of HP Lovecraft, called the Necronomicon. In the novels, this dangerous tome is capable of bringing into our realm a great demonic character – Cthulhu.
The latest Rich Wilde slot also features this monster as the main character. The octopus-like tentacled monster will only be summoned from the Void if the Portal is charged with wins. And you will get these small wins very often, thanks to the cascading reels feature that links them together.
The slot has an RTP of 96.50 and promises max wins of up to 2000x. With bonus features called the Abyss and Void also contributing, you can earn some serious cash with this Play'N'Go slot in 2019!
Banana Odyssey
Ever since the Soviet Union and the US sent some poor monkeys into space as test subjects in the 1950s, "monkeys in space" has become a part of pop culture. Banana Odyssey from Microgaming is certainly not the first attempt to feature monkeys or space.
Cute game, magical music, free spins galore
But it is probably one of the best in terms of execution. The music is pure bliss, with a sort of disco groovy vibe to it. The graphics and design are excellent, certainly worthy of a game with a 2019 launch.
There is nothing majorly deep by the way of story here – just a bunch of wild and excited monkeys in space suits, with a bunch of nuts, ray guns, and other themed treats thrown in the mix. But it is a combination that works visually.
The slot is a simple 5-reel affair with medium volatility and a very fair RTP of 96.3%. There are only 10 active paylines, and the max winning potential is restricted to a paltry 400x. While they work against this slot, we still believe it to be a fantastic new choice for beginners in 2019.
Champions of Rome
It is not easy to design an online slot game that leaves you awe-struck – the browser-based environment restricts your options. But Yggdrasil has pulled it off with their fresh take on a tried and tested genre in online casinos – Ancient Rome.
As its name suggests, Champions of Rome is based on the superstars of the Roman republic – the gladiators. We have to give the developers full marks for authenticity. All the symbols represent artifacts from that bygone era, with Roman coins taking the role of the low-value cards.
As for the elite cards, they all feature menacing-looking centurions and an assortment of muscular gladiators. The cards have some stunning animations at the end of each round. The background featuring a coliseum gives it all a grand scale, along with the spine-tingling imperial music.
The slot has multiple ways to win free spins, along with advanced Wilds, and multipliers that promise big rewards. With a max payout of 3000x this 5-reel slot is well worth a try in 2019. It has a generous RTP of 96.4%.
Dead or Alive 2
The name of this slot may suggest images of zombies and the undead to those who are not familiar with the franchise. Instead of the undead, you will be dealing with cowboys and bandits in this Western-themed slot from Netent.
Gritty western theme, we love it
A sequel to the critically acclaimed Dead or Alive slot from 2009, this game keeps things simple with 5 reels and just 9 paylines. Since this is a Netent slot, you can expect the kind of graphics you will find only in the best slots out there in the industry.
The game features legendary outlaws like Jesse James and the Apache Kid as the special cards. For the ordinary ones, they have used a traditional deck of card symbols you would probably find at any Saloon playing table. The reels also offer stylishly designed Wild West symbols like cowboy boots, revolvers, and Sheriff's stars.
There are many free spin bonuses added to the game, along with an enticing progressive multiplier round called the "Train Heist." With a huge win potential of over 100,000x the original stake, there is no wonder this simple 5-reel slot was one of the most hotly anticipated games of 2019. The RTP of 96.82% is the icing on the cake.
We are sure there are dozens of other awesome online slots titles that were released in 2019. What were your favourites? Let us know!
Disclosure: As an Amazon Associate, I earn from qualifying purchases. The commission help keep the rest of my content free, so thank you!