Not long ago, we tried the KeepVid app for Android and it is truly a great free solution to download videos online. Today, we're checking out the KeepVid Pro software built for Mac and PC.
Noticeably, this is not a free software. So, who's gonna pay for a video downloader? Let's find out in the review.
Features
Essentially, the KeepVid Pro app is a video downloader. After installing on your computer, you will be able to download videos from almost any video-sharing websites, including YouTube, Vevo, Facebook, Vimeo, Dailymotion, BBC, NBC, Break, Lynda, Metacafe, etc.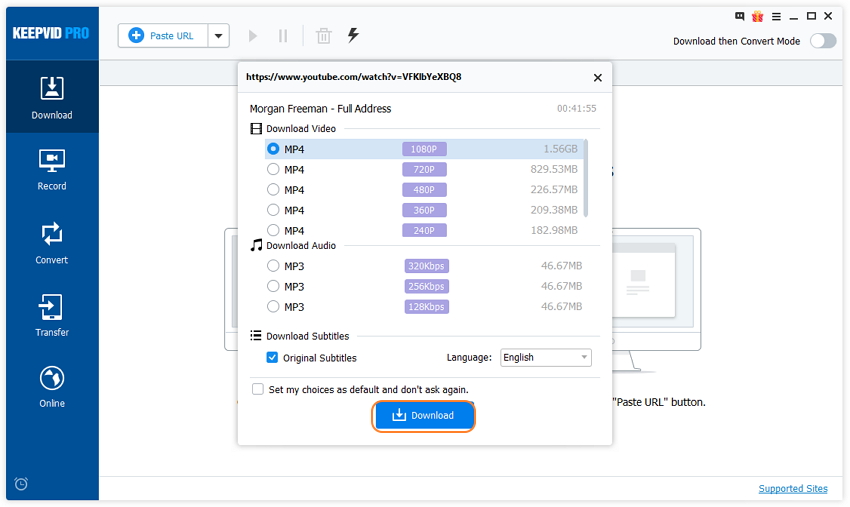 The software offers 3 ways to download a video. Firstly, you can use the integrated web browser to access your favorite video-sharing sites; Every time you go to a video page, you will see a Download button on the right corner, just click that button and choose the video resolution, then the video will be downloaded instantly. I don't recommend this way since the browser is a very basic one and can't protect you from privacy and security threats. The second way is to use your browser like Firefox or Chrome, then copy and paste to the software to download videos. And lastly, the software features a video recorder, so you can record videos or anything on your screen, such as Skype video calls, or create tutorial videos by recording the whole desktop screen. When using the video recorder, you can set the duration of the video so that you don't have to wait until the video finishes.
The software offers many videos formats for you to choose, you can download the videos to MP4, MOV, 3GP, FLV, WebM, AVI, MKV, or WMV file types. The best resolution is 4K Ultra HD. It also has a built-in video converter so that you can convert among different file types easily.
Another useful feature of KeepVid Pro is that you can download an entire playlist or channel from Youtube and Linda. This is very convenient and could save a lot of time when you need to download hundreds or thousands of videos. Downloading a full online course from Linda is now just 1 click away.
The KeepVid Pro software costs $29 for a 1-year license or $39 for a lifetime license. The fee is not expensive but it's just suitable for people who need to download a lot of videos on the Internet. If you download just a couple of videos per month, you will be satisfied with the free service.