Phones aren't the only devices that keep getting smarter. Technology is developing at a rapid pace in other branches of the electronics industry too. Take vaping for instance, where dozens of new and advanced products are released each month. Still, the first box mods with voice control? That's clearly something no one has anticipated.
"Hello, iJoy" and "Hello I-Priv"
In 2018 it's time to forget about "Hey Siri" or "Alexa" and welcome "Hello, iJoy" or "Hello I-Priv" as the newest cool phrases among vapers. iJoy and SMOK have both released their own versions of "AI" powered mods and these gadgets are becoming increasingly popular. Voice-activated vapes are able to change device settings without pressing buttons and this makes them the ideal on-the-go companions.  We received some recommendations about the most popular mods with voice control and went to work. 
Which ones were liked most?
The IJOY avenger kit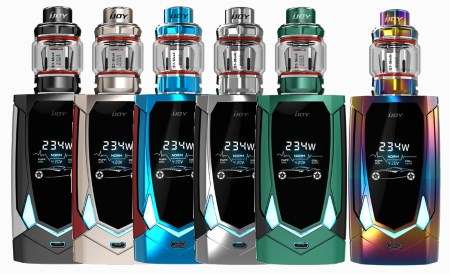 The IJOY AVENGER 270 starter kit was the first AI technology driven vape to hit the market. Launched in April 2018 this dual 20700 box mod has a total output of 234W. The device is available in 8 beautiful colors and it comes with a matching AVENGER SubOhm tank.
This Marvel inspired mod is firmware upgradeable and has temperature control presets for Nickel, Titanium, and Stainless Steel. The display is big and bright and you can fit atomizers up to 30mm on top of it without overhang.
However, its main selling point is the unique voice control feature. The device carries a microphone that's able to detect the phrase "Hello, iJoy". As soon as it does, it will automatically engage voice control mode. Here the box mod will react to 12 different commands. These include "Power High" and "Power Low" – where the vape increases or decreases the output wattage in 10W increments. You can also lock the device, turn on the LED lights, and make it react to music.
It's not really AI since it can only recognize and respond to the 13 pre-defined phrases, but it's a big step into the future. The voice control feature works surprisingly well and it's great when your hands are busy with something else.
The SMOK I-Priv kit
The SMOK I-Priv starter kit was released in May 2018 and it's the second vape with active voice control. Also inspired from Marvel's superhero movies this device is available in 8 different colors, including a rainbow option. It comes with a matching TV12 Prince SubOhm tank and it has a maximum output of 230W.
The mod is compatible with 21700, 20700 and 185650 batteries and features temperature control, TCR, as well as a color changing flashlight on the bottom. It fits atomizers up to 26mm without overhang and it is firmware upgradable.
Similarly to the IJOY AVENGER, the main selling point of the I-Priv is its voice control feature. The AI activates automatically on hearing the phrase "Hello I Priv". Here it will react to 14 different commands including "High Power" and "Low Power".
The interesting part about the I-Priv is that it also responds to the voice commands. It will say things like "Power has been increased" or "The light is on" each time it changes one of the settings. This feedback helps create a more realistic AI experience and gives SMOK the overall advantage.
How useful are voice controlled vapes?
Voice control is a relatively new feature of box mods and we are likely to see it become more developed in the future. But to be honest, at the current stage it's more of a gimmick and not that useful. It can sometimes come in handy when driving or working but these situations are limited. Most users will probably get bored of the feature and find it dull after a few days or weeks.
The real challenge for manufacturers is creating a real AI engine. We are talking about something that could understand and react to more than a set of pre-defined commands. A box mod that could double as your personal assistant and do so much more than adjust the output wattage or lock the device.
Sure, companies like SMOK and IJOY have already invested in this technology and the first results are very promising. Vapers seem to love the idea of having AI vape mods and voice control is just the beginning. We will probably see more and more of these devices in the near future as part of a new industry trend. But one thing is clear though: from temperature control to power curves and voice commands, vapes are definitely getting smarter.
Disclosure: As an Amazon Associate, I earn from qualifying purchases. The commission help keep the rest of my content free, so thank you!